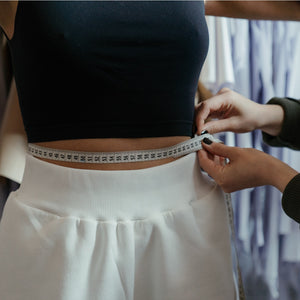 Made to Measure
The VirtuoSew Vision: To create custom sized tails for all merfolk; because we don't all fit in traditional small/medium/large standard sizing.  To get started you will need to complete the Measurement Chart.
Measurement Chart
Design Your Dream Tail
The VirtuoSew Inspiration: Offering a wide range of tail options so that you can truly be in control of the final product.  To start creating your dream tail visit our Tails page.
Model: Jaira Brownlee
Tails
Quality & Care
The VirtuoSew Difference: Professional designers, using the highest quality materials, working to bring you the best in quality and performance.  For more info, visit our About Us page.
About Us
Live Your Mermaid Fantasy
Freedom to imagine, create, and inspire. Combining your vision and our passion, we will make magic happen. Let us bring your mermaid dream into reality.
Model: Athenaïs Testi
Photo by: Megan Snair Photography
I love my arm fins so much that these are my second pair! I feel like somethings missing if I don't have them! Definitely a mermaid wardrobe staple! Thank you~~~~

Skinnerlibby on Apr 9, 2018 (Etsy)
The Monofin Stabilizer definitely improved my swimming with the fin fun. It helps me start powerful kicks and keeps my feet properly in place. I'm a small person I wear a shoe size 5 in adult women's so the fin fun pro is a tad loose on me. WORTH THE BUY.

Jacquelyn on Apr 21, 2018 (Etsy)
So fantastic! She took my idea and made it absolutely magical!  I don't have any good photos yet but OMG THIS IS SO AMAZING!!!!!

Colleen on May 24, 2018 (Etsy)